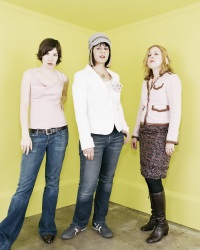 This is how closely I've been paying attention to the world: Sleater-Kinney, one of my favorite bands, announced in June that it was going on "indefinite hiatus," and I finally figure it out in August.
At Slate, Marisa Meltzer laments:
"It's a shame that we won't hear what Sleater-Kinney in their 40s or 50s would sound like."
I'm far less disappointed than I would have expected; I'm actually glad the group called it quits now, with two members in their early 30s and drummer Janet Weiss turning 40 last year. Looking back at the band's output, Call the Doctor screams out — literally and figuratively — that it's the best thing they ever did, followed by a series of records that had the audacity to be merely very good.
A document of people caught between youth and adulthood — singers-guitarists Corin Tucker and Carrie Brownstein were 23 and 21, respectively, when it came out in 1996 — Call the Doctor has a momentary brilliance that simply couldn't be re-captured. It is neither polished nor mature, but it has raw chops, vigor, anger, pain, smarts, vulnerability, confusion, and serious big-dick swagger.
"I Wanna Be Your Joey Ramone" (invoking Sonic Youth along with the titular punk icon) embodies the 1990s' feminist-punk movement — so naked in its youthful ambition and so sexy in its brash confidence that it stole guitar rock from men.
As M.J. Fine recently wrote:
"When male critics call Sleater-Kinney the greatest rock band of our time, they make it clear that the gender of the players has nothing to do with their talent. Sleater-Kinney's not great for a bunch of girls; they're great for anyone."
The band was brutally authentic in those days, even able through sheer sloppiness to rescue Boston's "More Than a Feeling" on a 1995 compilation.
Through no fault of their own, the members of Sleater-Kinney just grew up, and they took their music with them.