Tristram Shandy: A Cock and Bull Story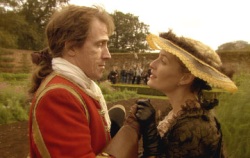 The temptation when writing about Tristram Shandy: A Cock and Bull Story is to try something really clever.
You might, as Roger Ebert did, file a review that attempts to mimic the movie's shambling way. (It's a half-assed effort, basically consisting of the addition of the sentence "But I digress.") Ebert accurately describes A Cock and Bull Story as "a film about the making of a film based on a novel about the writing of a novel."
Oh, the concept is even less appealing than it sounds. We're not talking Adaptation here — which at least had the comfort of the contemporary — but a nine-volume epic published in the second half of the 18th Century. In which the birth of the narrator/titular character doesn't happen until the third volume.
Let's read the opening of The Life and Opinions of Tristram Shandy, Gentleman for flavor:
I wish either my father or my mother, or indeed both of them, as they were in duty both equally bound to it, had minded what they were about when they begot me; had they duly consider'd how much depended upon what they were then doing; -- that not only the production of a rational Being was concern'd in it, but that possibly the happy formation and temperature of his body, perhaps his genius and the very cast of his mind; -- and, for aught they knew to the contrary, even the fortunes of his whole house might take their turn from the humours and dispositions which were then uppermost: ---- Had they duly weighed and considered all this, and proceeded accordingly, ---- I am verily persuaded I should have made a quite different figure in the world, from that, in which the reader is likely to see me.
As you might gather, the novel's author — one Laurence Sterne — was a playful fellow, and he was twisting literary conventions long before Oscar nominee Donald Kaufman was an itch is his brother's pants. The novel (which I have not read, and am essentially excerpting arbitrarily) is a relatively early example of metafiction — an approach that was likely as refreshing when the books were published as it is tiresome now. Consider:
I make no doubt but I shall be able to go on with my uncle Toby's story, and my own, in a tolerable straight line. Now,

These were the four lines I moved in through my first, second, third, and fourth volumes. -- In the fifth volume I have been very good, -- the precise line I have described in it being this:
If only David Foster Wallace offered such helpful diagrams!
The narrator has earned his self-indulgence, I suppose. Tristram endures all sorts of indignities, including a name his father loathes that was a function of forgetfulness. The doctor who delivers him has a dandy new invention called forceps. It's a shame he doesn't know how to use them properly; the little boy is lucky that only his nose was broken.
As for the movie itself, directed by Michael Winterbottom from a script by Frank Cottrell Boyce, it's a dry, light, good-natured entertainment with bawdy bits that serve to question the transgressive qualities of today's spate of "gross out" comedies. When a young Tristram has a window slam down on his poor little wiener — blaming the circumstances of his conception for his ills might be misplaced — one thinks back on There's Something About Mary and sees its dick-in-the-zipper gag to be but a pale imitation.
Tristram Shandy, at least as presented in the movie adaptation, is very much about the cock — and there's not a rooster to be seen. The novel's ending qualifies as truth in advertising:
L--d! said my mother, what is all this story about? ----

A cock and a bull, said Yorick ---- And one of the best of its kind, I ever heard.
And it's worth noting that the bull, at least in the movie, is a late addition — and that's mostly an excuse to show attempted cow sex.
Beyond the previously mentioned penis incident, there's a frequently noted war injury very likely involving the genitals of Uncle Toby, and there's the slippery member of the actor Steve Coogan, who can't seem to wrangle it into his pants without it popping right out again at the sight of a pretty production assistant, or a stripper, or his girlfriend. And there's the dog of Tristram's mother's vagina, which at the winding of the clocks salivates for cock. (Don't blame me; I'm merely extending a given metaphor.)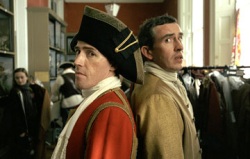 One of the production photos for Tristram Shandy shows Coogan and Rob Brydon back to back, as if they were about to duel. If my memory is correct, they're actually comparing height, but they might as well be measuring their dicks. Coogan, you see, is fixated on being taller than Brydon. And he's fixated on being the central character in the adaptation of Sterne's novel. So while there's a lot of bull in Winterbottom's movie, mostly it's a cock-swinging contest.
Coogan has two roles — as Tristram Shandy and his father — but Brydon's Uncle Toby is threatening to take over the whole enterprise. There's the war re-creation, and an involved love story, and if both of those make it in the finished movie, Coogan might not even reach the level of "co-lead." This is the peril of filming a novel in which the narrator can't be bothered to tell his own story.
As with Adaptation, Tristram Shandy has a freewheeling feel — as if the screenwriter dove in without having any sense of how it would come out. Yet where Adaptation devolved knowingly into Hollywood nonsense — embracing the absurdity and stupidity of what it was becoming — Tristram Shandy pulls up short and ties itself up neatly.
The film is confident and competent, but it should have been more daring. Following a solid half-century of incessant metafiction, it isn't nearly as inventive or twisty as it needs to be to match the effect of the novel that inspired it. It's a chuckle movie — mildly amusing throughout.
Yet despite this shortcoming, you can surely see why a critic might yearn to follow the leads of Sterne, Cottrell Boyce, and Winterbottom, to create an essay that barely addresses its ostensible subject — and then only in the most offhanded and dismissive way.
What a cheap gimmick — one that I tried mightily to employ. It's a lot harder than it looks, and I have little capacity for digression, so you're left with this.