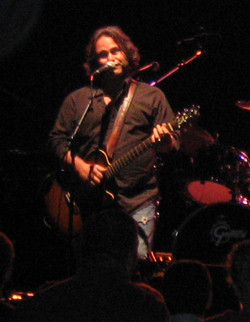 Pretty self-explanatory: Martin Sexton's one-hour set at River Roots Live in Davenport, Iowa, on Friday, September 22, 2006.
This is my first attempt at a live recording of a national act. The quality is mediocre, with too much crowd noise. If anybody wants to try to clean up the source file so I can post a higher-quality version here, please e-mail me or leave a note in the comments section.
Also, feel free to comment on whether it's even worth my time to post these audio files. Is the quality good enough to merit downloading?
I'll be changing a few things when I record Alejandro Escovedo tonight. We'll see if it's any better.
I also have Junior Brown's set from Friday and will post it if anybody wants it. Please let me know in the comments section if you'd like to hear that, too.