(Culture Snob's fourth offering for its own Misunderstood Blog-a-thon.)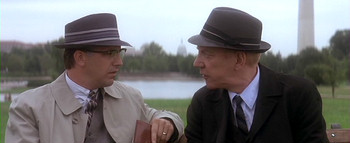 When we say that a movie is more style than substance, we typically mean it derisively.
Oliver Stone's JFK has a ton of stuff — with the director's cut running nearly three and a half hours — that was mistaken for its substance. But the meat of the movie is its style, because it's the fuel that made the film so combustible.
The movie was greeted with contentious debate upon its release in 1991, but Stone's critics and supporters completely missed the boat by arguing about facts, theories, and cover-ups. JFK works not as an argument but as a style of argument — sly and forceful in equal measure — and an exemplar of contemporary propaganda.
JFK uses two primary tools: its mass (the accumulation of details) and its form. In this brief audio commentary — the second of a feature called "Five Minutes" — we deal with the latter: how Oliver Stone uses stock footage and re-creations to accompany a speech or assertion as a way of giving weight and "truth" to it.
A note on audio editing: I trimmed some dead spots in my commentary — it was early! — so it won't match up exactly with the described scene.