(Culture Snob's fifth offering for its own Misunderstood Blog-a-thon.)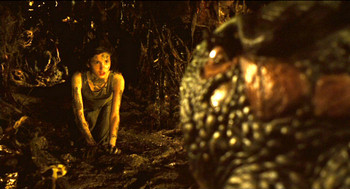 In a previous entry, I noted the disconnect between Guillermo del Toro's assertion that Pan's Labyrinth is "not about sexual identity" and the movie's marketing materials and design.
In this short audio commentary (part of Culture Snob's Five Minutes series), we look at the toad scene in the movie to undercut the writer/director's claim even more. Pan's Labyrinth is very much about sexual identity, particularly a woman's reproductive power over a man.