(Culture Snob's second offering for its own Misunderstood Blog-a-thon.)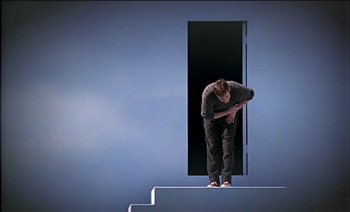 There's a maxim that says a movie teaches you how to watch it, but Peter Weir's The Truman Show teaches you how to watch it the wrong way. And in its brazen audience cues, it hints that you should question your reaction to the film. This is a movie that was made for misunderstanding.
This marks the debut of a new feature at Culture Snob, in which I choose a short section of a movie (roughly five minutes) and use it to explore larger issues in the film. With The Truman Show, I use the final six minutes to discuss the ways that Weir manipulates the audience into feeling that it's seeing a happy ending. The reality is that Truman Burbank — to this point, always protected as the unwitting star of an extreme reality-television show — faces a difficult if not impossible life.
You don't need to watch along, but a familiarity with the movie helps.