An Interview with Wilco's John Stirratt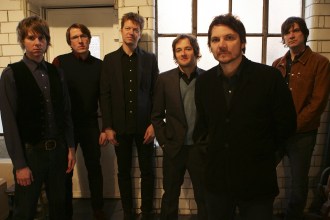 One reviewer has called Wilco's Sky Blue Sky the best Eagles record the Eagles didn't make, and it's impossible to shake the timeless soft-rock vibe in the sound, the vocals, and the easy pace.
"A Ghost Is Born was to me really jagged ... abrasive," bassist John Stirratt said of his band's last studio album. "And this record has a certain warmth."
But while May's Sky Blue Sky at first sounds like a retreat for the band that embraced noise and electronics on Yankee Hotel Foxtrot and A Ghost Is Born, Wilco hasn't abandoned experimentation. "Side with the Seeds" features guitar and Mellotron detours that, combined with slightly muffled drums and throbbing bass spikes, recalls King Crimson's disparate In the Court of the Crimson King and Red.
Still, there's no denying that the new record — which debuted at number four on the Billboard charts — is the band's most straightforward in a decade. And many people consider it their best. Again.
As Ted Drozdowski wrote in Boston's The Phoenix, "What's awkward about proclaiming Sky Blue Sky a treasure is that critics have heralded every Wilco album that's followed the group's 1995 debut ... as their best. And they've been correct. [Chief songwriter, guitarist, and singer Jeff] Tweedy has layered tastier meat onto Wilco's Byrds-meets-Stones bones every time he's entered the studio."
Already a respected alt-country outfit, Wilco's legend was cemented with Yankee Hotel Foxtrot, which the band's record label refused to release. Wilco bought the master tapes, streamed the album online, and released it with another label. It went gold and topped the Village Voice's 2002 critics' poll.
The Wilco story is a visible example of problems in the recording industry, but the band was motivated by practical considerations. It was "as simple as us just trying to go on tour and get the record out to people without the channel of the record label being there," Stirratt said. The band had a tour planned for fall 2001, and "we had to have the record heard. We wanted some people to know the new material before we got out there."
Wilco's sound on each album, Stirratt said, has been a function of its lineup. "It's kind of evolved with the personnel of the band," he said. "Each record has sort of reflected the personnel involved."
That's a gentle way of saying that Wilco has had a revolving door in its 13 years, with Tweedy and Stirratt being the only constants since the band was formed out of the remnants of Uncle Tupelo.
Guitarist Nels Cline and keyboardist Pat Sansone are the newest members — joining in 2004 — and Tweedy has said the current incarnation of Wilco is the band dynamic he's always envisioned.
Their contributions were apparent during their first practice, said Stirratt, who plays with Sansone in the duo The Autumn Defense. In addition to Cline's immediate guitar repartee with Tweedy — The Phoenix compared them to to Television's Tom Verlaine and Richard Lloyd — Stirratt was impressed at "how good at certain atmospherics he was, and how he and Pat, from the beginning, they were intertwining these atmospheric things on guitar and keyboard."
This is the first time the band has ever had the same lineup two records in a row, Stirratt said, including the live Kicking Television (which was released in 2005) in the equation. "There's a comfort ... a great sort of musical communication," he said. "The record reflects that, reflects us wanting to make a pretty overt, organically played record."
Put another way, the band's current configuration allows Wilco to get the sound it wants without a lot of post-production additions. "Having the two extra members, there's just a lot more ability to orchestrate ... a little more atmosphere," Stirratt said.
With the past two studio albums, the band spent a lot of time on pre-production, "looking for a thread to follow ... looking for a spark," he said.
This time, the band itself was the spark. "What was different was the fact that we could have a highly evolved six-piece ensemble playing songs in a pretty direct fashion — something we really hadn't done," Stirratt said.
He offered several other reasons that Sky Blue Sky goes down a little easier than other recent Wilco CDs. There was more interplay between the lyrics and the music, while in the past the music often responded to the lyrics "after the fact or really after the fact ... . So much of it was really crafted in the post-production. ... This record had more instances of the music informing the lyrics than other records."
Stirratt added that there was a disconnect between words and sounds on recent records, but not with Sky Blue Sky. "There was a little more unanimity with the lyrics and the music," he said. "Things might not be at odds as much as Yankee Hotel."
The dynamic was also more focused and less contentious this time around. "The disagreement generally tended to be sort of hashed out in discussing things really musically," he said. "This record, these sessions had us sitting down and paying attention to one idea, one thread for a long longer than we had ever done with any other record. ... I can't remember any other Wilco sessions where we were sitting down and actually playing together for three hours without getting up and leaving."
The organic sound of the record, Stirratt said, also makes the material more fun to play live. The joy lies in "playing these things by hand, as opposed to relying on samplers."
The music itself wasn't overly processed in the past, he added, but there wasn't a lot of room to maneuver. "It was hard. There were so many cues ... by machines or by people triggering these things," he said. "It just wasn't very satisfying, ultimately.
"It's absolutely much nicer to just get up there and play."
This article was originally published (in slightly different form) in the River Cities' Reader.