An Interview with Andrew Bird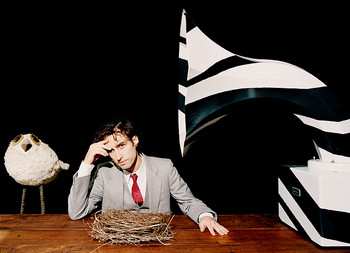 There is nobody like Andrew Bird in the world, a songwriter and a performer who makes his whistling, his glockenspiel, and his violin at home with guitars, drums, and vocals in detailed, pitch-perfect pop songs that never seem precious or forced, as eccentric as they are.
But when you're as idiosyncratic as Bird is, that means there aren't many people whose vision matches your own. That was one reason that the gestation of The Mysterious Production of Eggs — Bird's breakthrough from 2005 — took so long, with so many false starts.
"Eggs was quite an epic struggle," Bird said in a recent phone interview. "I scrapped it, I think, three times, and it took on and off for three or four years before I really figured out how to make that record."
He initially started recording with the band with which he'd played in the past, Bowl of Fire. "I was trying to force an old process on a new lifestyle," he said. "I was really in my head hearing a completely different type of music, yet I wasn't ready to completely get rid of the band. It took me a while to figure that out."
His music is curiously alluring — foreign yet familiar — and esoteric references are matched with vivid wordplay and a wit that is both sophisticated and childlike. There's the sly song title "Yawny at the Apocalypse," for example, and in another song, Bird casts an off-the-beaten-path subject in concrete terms and then sends the listener to the dictionary: "Where single cells would swing their fists / At anything that looks like easy prey" is followed by "We were all basically alone / And despite what all his studies had shown / That what's mistaken for closeness / Is just a case of mitosis."
(Mitosis, by the way, is the "division of a cell or nucleus." To further digress, this song — "Imitosis" — is a re-worked version of "I" from Bird's Weather Systems, which had to be hacked up because Sesame Street didn't give him permission to use the phrase "We all live in a capital I.")
In addition to Bird's uniqueness, a further complicating factor on Eggs was his uneasy relationship with the recording studio.
"I go into a studio really fast, do a lot of work very fast, and then get out before I start to lose my mind," he said, "and then take the references home and listen to them for two months. You just know after two months whether it's any good or not. If it's not, I just try the whole thing again."
So for some tracks, he said, "I've got five to 10 completely different versions of those songs lying around."
The problem in the studio is one of isolation and self-doubt. "When I step on stage, I know exactly who I am and how I think," he said. "But when I step into a studio, it all comes under scrutiny, and there's no audience to validate the whole endeavor. I just find recording to be really elusive. After two or three days in the studio, I start to spiral."
But in the past few years, Bird began collaborating with experimental electronic musician Martin Dosh. "He is like another version of me," Bird said. "That is, he's played with bands before, but he mostly thrives when he's in control of everything. ... He does his own one-man band thing, which I was doing ... at the time when we hooked up. So I think he is really sensitive and appreciates where I'm coming from. And what I really like about him is he doesn't play anything you'd expect. He doesn't play the stock footage."
It's not merely that Bird dislikes the predictable and conventional. He claims that he's not limited by calcified ideas about the roles of instruments. "I don't know what a bass line is supposed to do," he said. "Now I'm working with musicians who really appreciate that. And I'm also working with musicians who like me resist formula."
The recording process with Dosh, Bird said, was smoother, and the result — Armchair Apocrypha, released in March — is an album nearly as acclaimed as its predecessor. The Onion summed up Bird's recent career by saying, "Over his past few albums, Bird has developed a finesse for off-kilter pop that takes mortality, confusion, and unexpected realizations as its subject, shaping them all into songs that are catchier, by their own terms, than most of Top 40 radio."
Bird is currently touring with a band that includes Dosh, but he's also doing solo gigs. Just as he likes to do live shows while recording, he wants his touring schedule to provide breaks from routine. "It makes for a better tour for me if I do four or five band shows and then I do two or three solo shows to reset myself," he said, "to remind me what my instrument sounds like. ...
"Nothing quite compares to playing by myself. Then it's only up to me to make something cool happen that night that's different from the night before.
"But if I'm going to play with anybody to keep that kind of feeling, I think I've found the right people."
This article originally appeared, in slightly different form, in the River Cities' Reader.