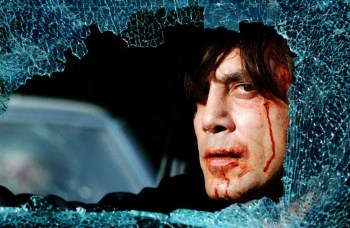 ... No Country for Old Men.
A few months ago, I promised that I'd try to use the basic Box Office Power Rankings formula to predict a Best Picture winner. The hypothesis is that Best Picture winners tend to have a blend of prestige and popularity, and that a quantitative measure of those qualities might have predictive value.
The weekly rankings use two measures of critical opinion (Rotten Tomatoes and Metacritic) and two measures of box-office performance (revenue and per-theater average) to present a more accurate picture of movies' receptions.
For the first Oscar edition — I'll update the numbers as we get closer to the February 24 ceremony — I still used Rotten Tomatoes and Metacritic, but I did three box-office measures: total domestic box office, box office per week of release, and box office per week per theater. Then, I assigned points (one through five, with five being best) based on each nominated movie's performance with each criterion. And then, to give equal weight to critical opinion and box-office performance, I multiplied the box-office points by two-thirds. I know you don't care about any of this shit, but I'm trying to show my work.
Anyway, here's how the Best Picture nominees shake out: No Country for Old Men (15.0 points); Juno (14.3 points); There Will Be Blood (12.7 points); Atonement (10.0 points); and Michael Clayton (9.0 points).