Tapes 'n Tapes (an interview)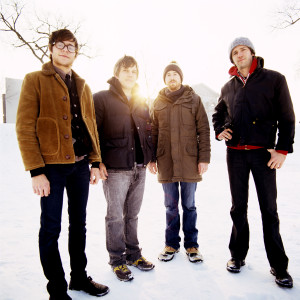 As dismissive as many people are when it comes to blogs, what's often neglected is that they can sometimes represent genuine grassroots movements. And Minneapolis' Tapes 'n Tapes has been a major beneficiary.
Even though Tapes 'n Tapes' members have been made poster boys for the term "blog band," keep one thing in mind: The group deserves the hype. As My Old Kentucky Blog wrote: "Argue it until you are blue in the face, but this 'blog band' proved that we music blogs actually get it right some times."
Tapes 'n Tapes released its debut, The Loon, in 2005, and a friend of the band sent tracks to bloggers. The snowball of praise got a big push with a February 2006 rave at Pitchfork Media. The band backed up the buzz with hard work, playing eight shows over three days at South by Southwest that year.
That culminated in Tapes 'n Tapes signing to XL Recordings (the label home of Radiohead and The White Stripes), which earlier this year released Walk It Off, which was produced by Dave Fridmann (best known for his work with The Flaming Lips).
Tapes 'n Tapes singer, guitarist, and songwriter Josh Grier said the ascension has been almost too rapid to process. "I don't really know if I've ever realized that they were blowing up," he said last week in a phone interview prior to a show in Brooklyn with the Black Keys. It's "just been really busy for the last three years. It's good to be busy."
In addition to "blog band" — which is mostly said with derision — Tapes 'n Tapes have acquired another term of ambivalence: "indie-rock classicists," which suggests that the band is too busy gazing back lovingly to chart a course forward.
But that's never been a fair criticism for Tapes 'n Tapes, whose two albums are consistently surprising and never performed with less than full conviction — even as their components are eminently familiar, starting with Grier's natural vocal resemblance to Black Francis/Frank Black.
As Pitchfork astutely noted: "Here's a charismatic, playfully slipshod band unconcerned with making all the loose ends meet up, audacious enough to leave the dot-connecting to us. But then, never quite knowing which Feelies riff or Malkmus vocal turn or, hell, CYHSY [Clap Your Hands Say Yeah] organ sound these guys will strike with next is precisely what makes The Loon such a rich, participatory, and eminently repeatable experience.
"Tapes 'n Tapes kneel before Pavement, Wire, Beach Boys, and Pixies, bearing their influences more publicly than notebook logo sketches. But facing the task of averting obviousness, they play the uncool card ... ."
The Loon is a stunning debut, with a majesty and Pixies gallop on "Insistor" and a rubber bass and anxious insistence on "Cowbell." "Crazy Eights" features a sudden shift from casual, charming filler full of haunted feedback to an eloquent, nearly poignant guitar solo with a faint organ counter-melody.
The second Tapes 'n Tapes album is more measured and less ragged — both factors that make it seem less joyful even as it's more sonically and emotionally accomplished. "Lines" almost forms as it progresses, first finding a series of two-note guitar/bass/organ melodies and then giddying up to an appropriately grand climax.
Walk It Off is also a bigger record — massive, detailed, and clean — and in that way you can really hear producer Fridmann. The huge drums, jaggedness, and squalling aggression of "Blunt" seem to consciously recall Sleater-Kinney's swan song The Woods, which he also produced. Tapes 'n Tapes at times sounds like it's trying to beat to death any notion of "indie" eccentricity.
But although he has a reputation for being exacting — three years ago, the Seattle Times wrote, "Sleater-Kinney is dead. Prime suspect: Dave Fridmann" — Grier said the experience of recording Walk It Off was nothing but pleasant.
Fridmann "really didn't have an agenda other than us being happy with how the record turned out, and helping us realize what we had in our brains," he said. "We'd just play stuff and put mics in the room. Usually it didn't take too many tries before it was, 'Yep, that's how we want it to sound.' ...
"The sounds he gets, he's amazing. First and foremost, he's just a really amazing engineer. ...
"For some reason, there is a misconception that he really has a heavy hand in how things are produced, or like really affects how bands operate. At least in our experience, he just kind of enabled us to get to where we wanted to be."
The menace of "The Dirty Dirty" — pummeling drums and throbbing bass, with bells and a buzzing, thin guitar providing only accents — was something the band primarily recorded in Fridmann's absence, Grier said, and it's a testament to the band's vision independent of the producer.
With the attention paid to the sound of Walk It Off, Tapes 'n Tapes released the record on vinyl and also made "Hang Them All" — which would be considered a knock-off of its own "Cowbell" if it weren't so damned catchy — available as a download in the lossless FLAC format.
"I'm a big audiophile," Grier said. "I really like how things sound on vinyl, and really want to hear things the way they're supposed to sound. ... It was really important how it sounded, and the quality of it when it got compressed down to mp3 really didn't represent how we wanted it to sound. Things got really crunchy in a way that they weren't supposed to be. The record is pretty overdriven, and when you compress it into mp3 format, it kind of gets mushy sometimes. The idea was: When we were mixing it in the studio, this is how it sounds and this is how we intended it to sound."
For all the success of Tapes 'n Tapes, Grier said he recognizes that the idea of a "blog band" might be short-lived — if it's not already over.
"It seems like there's less bands right now that I'm noticing that are getting a big communal push from blogs," Grier said. The half-life of any cultural product these days seems down to a few days, and the hype/backlash cycle is so compressed that it's often happening simultaneously.
Tapes 'n Tapes came from a more innocent time — you know, 2005. "It was a time when music blogs ... were this new thing, and all of a sudden people were starting to look there for bands," Grier said. "We were really fortunate to be at the right time for that stuff."
Despite was his band has achieved, Grier has kept his day job, with employers who don't mind if he disappears for weeks at a time for a tour.
"When I go back home, it's nice to be able to do something that's totally unrelated to the band," he said. "I go in for a couple days a week and do some data analysis."
He added that he gets why most people in bands can't wait to dump their wage-slave jobs, but that's not him.
"More than anything, if I didn't have any sort of a job when we were home, I'd probably be pretty bored," he said. "I totally understand the allure of quitting the day job. It is nice to have health care, though."
(This article originally appeared, in slightly different form, in the River Cities' Reader.)