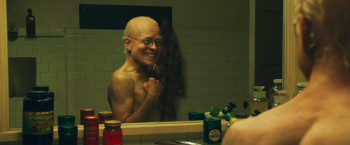 As 2008 exited, withered and old and tired, The Curious Case of Benjamin Button was birthed into theaters, fully formed as a Best Picture favorite. Among the major contenders, it's the only conventional Oscar bait to have been given a wide release at this point. (Ignore The Dark Knight and WALL•E, which are first and foremost popular movies that just happened to garner a lot of passionate praise, and hence Oscar potential after they were released.)
So how did David Fincher's latest fare in the final Box Office Power Rankings of the year? Well, it won, but not by much, challenged by the scrappy Marley and Me. That does not necessarily portend Oscar doom for Curious Case — it opened among some serious competition — but we might have expected more from a wide-release Academy hopeful that's eager to be a cultural flash point.
As you no doubt know, Button is the resurrection of Forrest Gump the movie, but it doesn't appear to be a resurrection of Forrest Gump the phenomenon. And that, I wager, hurts its Best Picture chances.
Gump opened in 1,595 theaters on July 8, 1994, and earned $24.5 million in the U.S. that weekend. Button opened in 2,988 theaters on Christmas day 14 years later and earned $38.7 million over a four-day holiday weekend. If you remove Christmas day, Benjamin only took in $26.9 million in its first weekend. When you consider ticket-price inflation, the number of venues, and production budgets (with the new movie costing nearly three times Gump), The Curious Case looks curiouserly infirm.
(Note: Because of a typo, the rankings here incorrectly short Doubt's Rotten Tomatoes score. Doubt finished fourth, not eighth as listed; the order [if not the rank] of all other movies remains the same. The chart has not been corrected.)
Box Office Power Rankings: December 26-28, 2008
Box Office Ranks
Critics' Ranks
Rank
Movie
Last Week
Gross
Per Theater
Rotten Tomatoes
Metacritic
Total
1
The Curious Case of Benjamin Button
-
8 ($26.9M)
9 ($9.0K)
10 (73)
10 (70)
37
2
Marley & Me
-
10 ($36.4M)
10 ($10.4K)
8 (55)
7 (53)
35
3
Valkyrie
-
7 ($21.0M)
8 ($7.8K)
9 (57)
8 (56)
32
4
Yes Man
3
6 ($16.7M)
6 ($4.9K)
6 (44)
5 (46)
23
5
Bedtime Stories
-
9 ($27.5M)
7 ($7.5K)
4 (21)
2 (34)
22
6
The Tale of Despereaux
2
4 ($8.9M)
2 ($2.9K)
7 (53)
7 (53)
20
7
Seven Pounds
5
5 ($13.2M)
5 ($4.8K)
5 (28)
3 (36)
18
8
Doubt
-
1 ($5.3M)
4 ($4.2K)
2 (17)
10 (70)
17
9
The Day the Earth Stood Still
8
3 ($7.7M)
3 ($3.2K)
3 (19)
4 (39)
13
10
The Spirit
-
2 ($6.5M)
1 ($2.6K)
1 (16)
1 (30)
5
Methodology
Culture Snob's Box Office Power Rankings balance box office and critical reception to create a better measure of a movie's overall performance against its peers than gross receipts alone.
The weekly rankings cover the 10 top-grossing movies in the United States for the previous weekend. We assign equal weight to box office and critical opinion, with each having two components. The measures are: box-office gross, per-theater average, Rotten Tomatoes score, and Metacritic score.
Why those four? Box-office gross basically measures the number of people who saw a movie in a given weekend. Per-theater average corrects for blockbuster-wannabes that flood the market with prints, and gives limited-release movies a fighting chance. Rotten Tomatoes measures critical opinion in a binary way. And Metacritic gives a better sense of critics' enthusiasm (or bile) for a movie.
For each of the four measures, the movies are ranked and assigned points (10 for the best performer, one for the worst). Finally, those points are added up, with a maximum score of 40 and a minimum score of four.