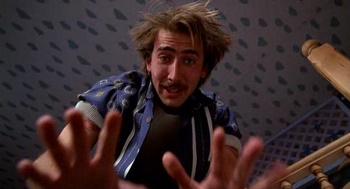 For whatever reason, I've steadfastly avoided most of the Coen brothers' sillier movies. (If forced to ascribe a cause, I would point to The Hudsucker Proxy.) But a friend's earnest e-mail (titled "Urgent Coen Brothers symbolism inquiry") pushed me to watch Raising Arizona, which in the context of a discussion of nihilism and No Country for Old Men led me back to Miller's Crossing, which for the hell of it got me (for the first time) to see The Big Lebowski. (Understand that I do not put Miller's Crossing among "the Coen brothers' sillier movies.")
Watching the three together was instructive. First, it reinforced that the Coens' filmography is amazingly consistent in its concerns. In all three, the protagonist is at the mercy of forces and figures far greater than himself, and he can scarcely imagine the depth and scope of the mess he's in. (You can also see that formula at work in the brothers' three most recent movies: No Country for Old Men, Burn After Reading, and A Serious Man.)
But I also realized that my resistance to the Coens' absurdist films is not a fear of watching a bad movie; rather, it's the certainty that my time investment won't be rewarded beyond diversion.
Let me be clear: The brothers are expert entertainers, and amusement is a perfectly valid reason to watch a movie. But until recently — as the Coens have shown a new gift for resonance — their movies have been almost self-negating. By that I mean they announce, sometimes explicitly, that all you've just seen doesn't matter a lick. (Marge Gunderson: "And for what? For a little bit of money.") While it's obviously cut from different cloth, this also holds true for Miller's Crossing.
The Big Lebowski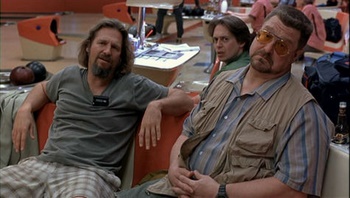 The best thing I can say about 1998's The Big Lebowski is that I enjoyed it tremendously, even though I was prepared to hate it based on its cult-classic status. (I honestly and truly loathe The Rocky Horror Picture Show — both the movie and the group experience — but for the most part I avoid [admittedly for no good reason] those things that inspire people to ceaselessly quote from them.)
I love Lebowski's outsize characters and the fully invested performances, and the obvious enthusiasm of the actors is infectious. (It's great to see Julianne Moore having fun, and it's great to see Steve Buscemi as the only remotely normal person in a movie.) And I appreciate that it's all a tall tale amounting to nothing.
And yet ... it's all a tall tale amounting to nothing. Lebowski isn't nihilistic in its message — there is, after all, a church devoted to the laid-back philosophy of Jeff Bridges' character. But its essential triviality — the fact that nothing that happens in the movie is of any great import to its resolution — makes it a form of cinematic and narrative nihilism. That's what I mean in arguing that the Coens' movies are self-negating.
I know there are deep readings of Lebowski, and admittedly there are some curious contradictions in characterization: The Dude is at core more tightly wound than his militant best friend played by John Goodman. (Bridges' character is fretful, easily agitated when things go wrong, and concerned about consequences. Goodman's is violent and quick to anger, but he also lets things go more quickly and doesn't worry about stuff such as his actions possibly leading to somebody's death.)
Yet it's difficult for me to abide by The Big Lebowski as anything beyond an intensely silly and disposable entertainment. It was gone the moment it was over.
Raising Arizona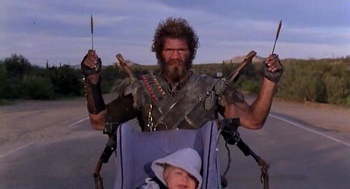 All of the above generalizations apply to Raising Arizona with one key exception: Leonard Smalls. The lethal biker bounty hunter elevates the Coens' second movie through his mere existence.
Smalls first appears in a dream of H.I. (Nicolas Cage) after the ex-con and his wife have kidnapped a baby because they can't conceive or adopt one of their own. But while Smalls initially appears to be a symbol of H.I.'s unleashed guilt, it's soon apparent that he exists in the real world, too, setting up a climactic showdown.
It's a brilliant, ballsy move. The Coens make clear that Leonard is an aspect of H.I.: Beyond the matching tattoos, right after the plan to rob the bank is laid out, there's a fade to Smalls' motorcycle that makes it appear as if H.I. is breathing fire and has horns.
But it's not nearly so tidy. This essential component of the narrative stands out for being incongruous even in the context of Raising Arizona's thorough ridiculousness.
But it's the preposterous nature of the movie as a whole that allows Leonard Smalls to exist both objectively (for example, visiting the store of the kidnapped kid's father) and as a metaphoric demon chasing H.I.
Here the Coens' farcical tone serves a purpose beyond itself: After the shootout following the convenience-store diaper holdup, the audience is prepared to believe just about anything.
Miller's Crossing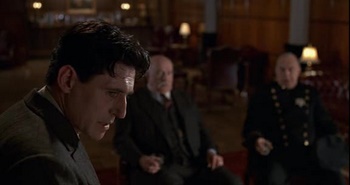 I have long assumed that 1990's Miller's Crossing would remain among my favorite Coen movies, as I love getting lost in it and looking at it.
Yet after 2007's No Country for Old Men and 2009's A Serious Man, Miller's Crossing feels newly empty. The Coens in recent years have developed an earnest existential and moral maturity that makes their period organized-crime thriller look threadbare.
In Miller's Crossing, the Coens are nearly giddy in setting up and executing crosses, double-crosses, and maybe even triple-crosses, with the inscrutable Tom (Gabriel Byrne) as the punching bag in the middle. The movie's endgame is that for all the work the Coens make the viewer do just to keep up with the characters and greedy machinations, something simple drives the story: Tom's unspoken loyalty to Leo (Albert Finney). It's no accident that the film begins with a speech about ethics.
The problem — and this isn't really a criticism, because I think the movie's grasp matches its reach — is that its interest in morality is abstract rather than human. The story and reveal dictate the characters instead of the other way around.
At heart, there's little going on in Miller's Crossing beyond a narrative trick based on audience assumptions. The Coens want people to puzzle over what the hell Tom is after, and they succeed because they're correct that few viewers will read into the protagonist anything but self-interest.
It's a gorgeously made movie, and rock solid as an elliptical puzzle. But like most of the Coen canon, I found myself wanting more than the brothers were willing to give.