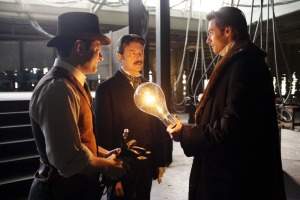 The reasons for recording (with Bride of Culture Snob) this commentary track to The Prestige are many and simple:
Director/co-writer Christopher Nolan didn't include one on the first DVD release — at least not that I've found.
In my essay, I faulted the movie's ending, but I now accept it as suitable and even necessary.
There remains great confusion and debate about what actually happens in the movie, even though the script and presentation seem to me models of clarity and foreshadowing.
Bride of Culture Snob and I continue to argue about the conclusion, and whether it fits or panders to an audience's anticipated inability to follow the story.
While it received generally favorable notices, The Prestige seemed to be dismissed as a mere entertainment, and I think critics and audiences failed to recognize the movie's depth, density, and elegance.
We address all these areas in the commentary track, come to some resolution about the ending, and explore my theory that viewers tend to understand one of the movie's "tricks" while watching the first time but get fooled by the other.